Saturday September 23rd – Thursday 28th, 2017 
A Funeral Celebrant's life can be demanding, emotional, sometimes just plain hard, but it is also one of the most rewarding and enjoyable roles you can imagine!  All participants have said they would recommend the course to others, whether experienced celebrants, or new to the industry.



NB:  Places will fill fast as this is the last course of this year, next one? May 2018! The September course is placed during the school holidays for several states and as many teachers are drawn to this role!
With a six day, total immersion course, you will experience and gain the following skills:
 An understanding of grief, loss and trauma
 Public speaking, poetry and the ability to gather resources
Listening skills
Writing a good life story
Ceremony structure and protocols
Simulated family interview (with professional actors)
Understanding the balance of loss and celebration of life
Looking after yourself
Ceremony writing
Difficult funerals (babies/car accidents/suicide)
Presentation and videoing of your written funeral service
What would you do if?  Q&A
Marketing and small business (with a marketing professional)
A full tour of a cemetery and crematorium
About your trainer
Unlike some trainers, I work in the industry full time as a funeral celebrant, so I know what it is like. I have written close to 2,000 services and I am still as passionate and dedicated as when I first started. I want those who are interested in learning to fully understand and be capable of creating a ceremony that will live on in the hearts and minds of everyone who attends.
I have written this training course from start to finish, so that you will have a complete understanding of how to work as a funeral celebrant. Jane Ormonde (May 2014), a trainer herself, said it was the first course she has ever done where, on completion of the course, she actually felt capable of doing what she had been trained to do.
The satisfaction of receiving a phone call, letter, card of thanks, goes beyond words. A good funeral celebrant can make a difference in people's lives that will, quite literally, never be forgotten.
Add to this I offer ongoing mentoring (for as long as I'm around lol), a forum for past and current students to support each other, as well as the opportunity of creating a good supportive network in what can be an isolated role.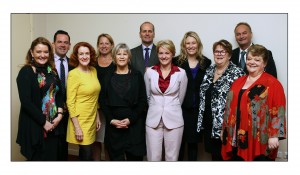 May 2016
From left to right, Kim Raatjes, Kevin Clune (mentor), Julie Freidman, Robyn Rodda, Avril Cornock, David Taylor, Julie Cowley, Krysia Hetherington, Elly Foster, Frank Drew, Robyn O'Connell (trainer).
Mentors
Kevin Clune a 2012 graduate was a successful funeral celebrant before completing the course, however he felt it lifted him to the next level and now he is one of the top (if not the top) male funeral celebrants in Perth. Kevin mentored the May courses in 2014,  2015, 2016 and 2017.  Participants have all said how much they have benefitted from his immense amount from his experience.
Another graduate of that same course, Elaine Herrick, was  Allison Monkhouse's in house celebrant, a much-coveted role and now works for herself, with many requests from AM's clients for her outstanding work. Elaine mentored the August 2014 course attendees and gave a real insight into the internal workings of a funeral company.  Elaine often joins us for dinner a couple of nights and is there to support and help participants with preparations for their presentations on the Wednesday.
Suzie Venn a graduate from 2015 was determined to be the best and on enrolling said "I will make you proud".  Having now conducted 500 funerals, recently Suzie was told by two different funeral directors that she is now thought of as the top female celebrant in Brisbane, her busy schedule certainly reflects that and yes I am proud!  You can then understand why I am delighted to announce that Suzie will be mentoring the September 2017 course!
So how much does it cost?
For all accommodation, meals (except one night when we are out) and tuition, the cost is $2,250, which for most celebrants, is the income from five or six funerals, depending where you live as each state earns different amounts.  There is an early bird discount of $200 if the course is paid for six weeks in advance.
For those coming from interstate, pick up and drop off to Melbourne airport is included. If you want to fly in on Friday, Catherine and Robert from Chestnut Hill are happy for us to stay there on the Friday night.
If you wish to have the three recognised units certified there is an additional cost of $200 paid directly to the RTO.
With the group strictly limited to a maximum of 10 participants, courses are held at Chestnut Hill Conference Lodge a beautiful and serene setting in the Dandenongs.
This course may challenge you, however it will also teach you skills that can be applied to every part of your life. As recent graduate Lemise Kassim said, "it was personal development on steroids!"
I feel confident that it will help you discover more about yourself and your capabilities.
Please give me a call on 0425 726 246 to chat further about it.