Engaging Public Speaker
Do you need an inspirational speaker at your next function? I am also happy to volunteer my time to speak for community groups.
Whether it be for:
An after dinner speaker
Small business start up motivation
Master of Ceremonies for conferences
Host of fashion parades
I have a breadth of experience in many areas. From starting a new career in my late 40's becoming a celebrant and starting a home based business. I was pleased to be asked to present as one of three successful business women for the Maroondah 'Women in Business' series. I have run workshops on 'how to present your business to others' to small home based business groups.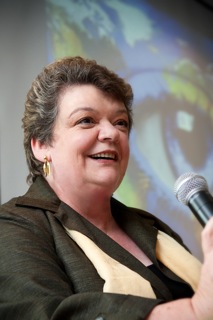 After a couple of years of hosting a cruise information night to the general public (many of them yet to go on their first cruise) a travel agency attributed much of their ongoing sales to my ability to engage everyone there. While the cruise presenters were professional in their presentations, I was told that it was my ability to make it all 'real and achievable' that saw ongoing sales.
Here's what Lillian Daff, manager of Knox Travel had to say:
"I manage a travel agency and realised that our marketing events, like the cruise information nights we hold on a regular basis, would be more effective with a professional presenter.
I was not the only one impressed!
Our decision to engage Robyn to take the helm has transformed our cruise information nights into the highlight of the year. Our success in this endeavour would not have been achievable without Robyn."
Comments like one that came from Helen from the View Club said:
"I didn't expect to find everyone laughing when talking about the subject of planning your own funeral! Much to everyone's surprise, it was not only lighthearted but also highly informative. I for one have now put things in place, so my funeral will be how I want it.
Thanks Robyn, it was good to get some factual information about pre-planning or pre-paying a funeral without someone trying to get you to buy one – this is a must for everyone!"
If you are interested in finding out more, please feel free to call me on 0425 726 246 and we can have a chat.