Very proud to announce two new poetry books – Book 2 full of poetry and verses as well as Beginnings & Endings!
There are now three books available for purchase.  $10 each or $25 for the three of them.   25% of the price  will be donated to the Rebecca Jane Foundation (see Rebecca Jane page on here)  There are 30 verses/poems in each book.  Oh that's a bit silly, I didn't tell you they were .pdf files so I can send you the link and you can download them!
Please note this is in Australian dollars, you can pay by direct credit into my bank account (details on request) or you can pay by PayPal (particularly if you are overseas) just using my email address robyn @ silver celebrants.com.au without the spaces of course!   Any questions, just drop me a line or leave me a message on here.  Although you may get an error message saying it wasn't delivered – it actually does get to me.  Thanks

Your Grief Journey Bookmark R.R.P. $5.00 Buy online for $4.00 & $1.00 P&H
This bookmark is a perfect gift for someone who is grieving, whether it is recent or long ago. These words of comfort give hope, unlike cards that will just be put away, this can be a constant reminder for them that they WILL be ok! Why not have a few on hand to be able to pop into a card?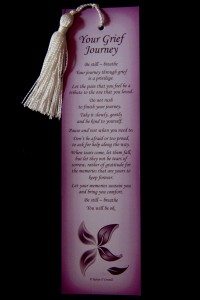 What Happens When You Die? A child's questions answered. R.R.P. $19.95 Buy online for $15.00 P&H $2.50
Explaining death to children is not easy, particularly if the person is younger as their bodies haven't 'worn out' etc. Jamie is eight years old when his uncle dies suddenly and he is left with a whole lot of questions. This book is suitable from 4-12 year olds. It has no religious content so that you can give your own explanation of your personal beliefs.